Divemaster (DM)
Your adventure starts here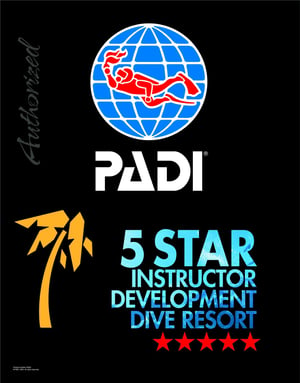 DIVEMASTER COURSE
Embark on something special
The PADI Divemaster Course here at Reef Gliders will transform you from a recreational diver into the ranks of the professionals, not only can it be the start of a career in diving, it'll be an experience to remember.
As a certified PADI Divemaster your role will be to supervise dive activities for certified divers, and assist instructors teaching student divers. As a dive leader you'll also be a role model for other divers to turn to for advice, tips and assistance in all things dive related.
Here at Reef Gliders we've designed our Divemaster programme to give you the maximum benefit from your time with us. The PADI course broadly covers 3 areas; Knowledge Development, Waterskills Development and Practical Application.
During the first part of your course, you will take part in the divemaster workshops, giving you the foundational knowledge and skills needed to be a Divemaster. After this you will put your skills into practice as you start to assist our full time instructors with recreational courses and guiding our divers on the reef. Of course no-one's perfect from the get-go, which is why we'll teach you how to approach everything you do, such as the dive briefings, equipment organisation and guiding, then after a debrief we can highlight your strengths and identify the areas for improvement. It's a big learning curve and we're here to take you through it. By the end of your course you'll not only be a much more advanced diver, you'll have the ability and foundations to build a great career in the industry.
We know that one of the best ways to prepare to be a Divemaster, is to get as much dive experience as possible, which is why we offer unlimited free diving throughout your time with us and free diving for life! Our more active Divemaster Candidates (DMC's) log 80-100 dives in their time here, giving you the best experience possible.
You'll become a valued part of the staff team during your course, being a part of the day to day organisation of a dive centre, and learning as much as you can from our instructors. You'll also be able to take advantage of a 10% discount at our on site bar, Blue Marlin, because sunsets are always better when you're sharing dive stories with a cold beer.
We run our Divemaster programme over 6 weeks however, if you're short on time we can accommodate an expedited schedule, get in contact to discuss your options.
If you want to add to your qualifications and experience we also offer various different specialties, such as Enriched Air Nitrox and Deep Diver which are available to all our DMC's at a discounted rate.
For more detailed information about the course itself or Reef Gliders in general, contact us in the enquiry below and we can talk about all you need to know.

Price- USD $900
Price includes all taxes but excludes PADI Fees and materials