PADI Divemaster
Your adventure starts here
PADI DIVEMASTER COURSE
Take your PADI Divemaster Course with the most experienced Instructor team in Roatan, Honduras. Enjoy unlimited tropical diving, flexible durations and most comprehensive Divemaster training on the island, plus, free diving for life for all our Divemaster graduates!
Completing a Divemaster Internship is a must for any scuba addict. It will transform you from a recreational diver into the ranks of the professionals, not only can it be the start of your career in diving, it'll be the experience of a lifetime. Join us at Reef Gliders, PADI 5 Star Instructor Development Center, for the ultimate scuba diving training vacation.
Check out your options below:
Classic Divemaster
Our standard DM Course will develop your dive skills and knowledge above and beyond what's required. As an Instructor Development Center we aim to bring your abilities to Instructor level wherever possible. Click the link opposite for in-depth info of the course we offer, our training philosophy, and why you should choose us.
Essential Information:
Extended professional dive training

Unlimited Diving

Most equipment included

Free Specialty trip included

$900 USD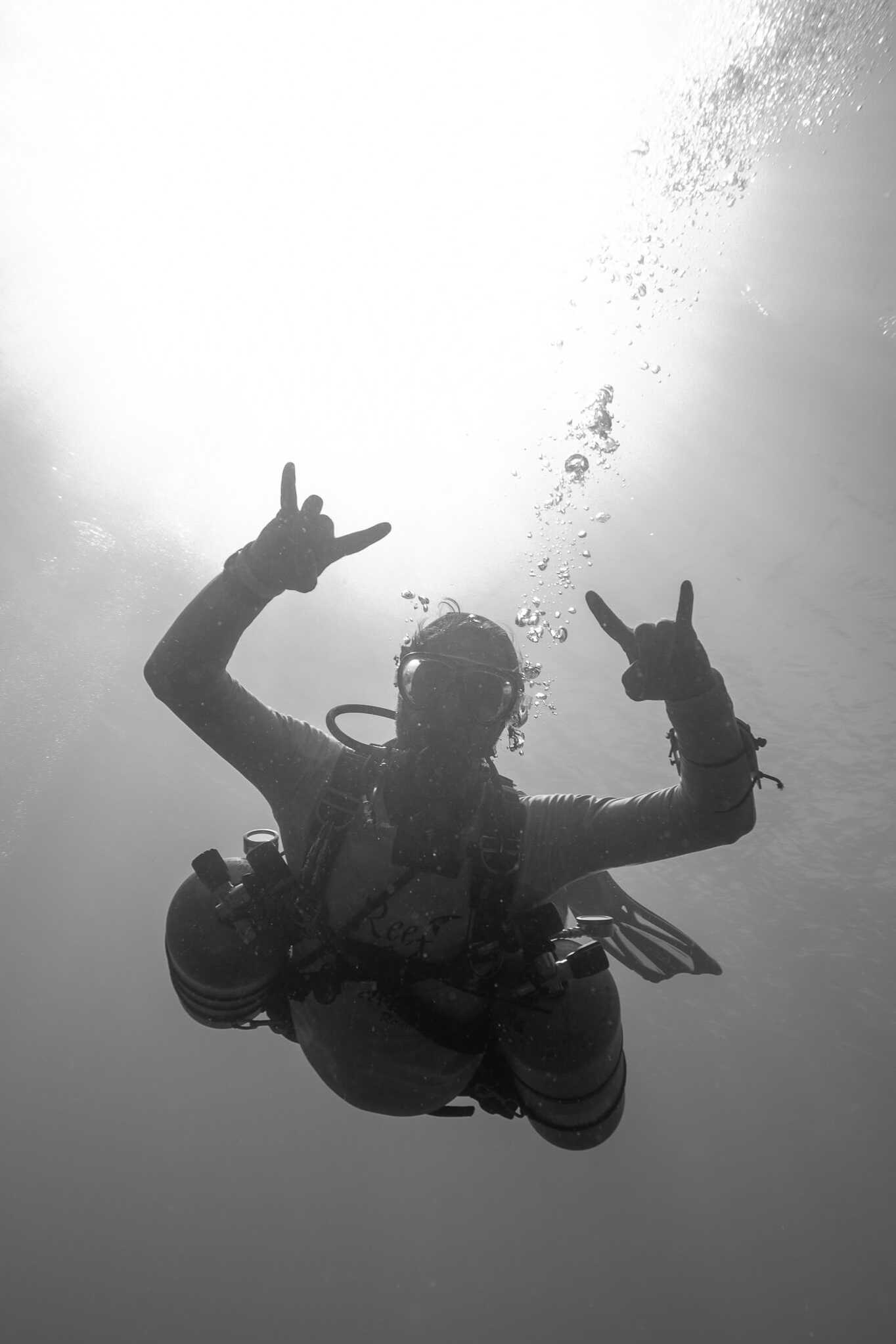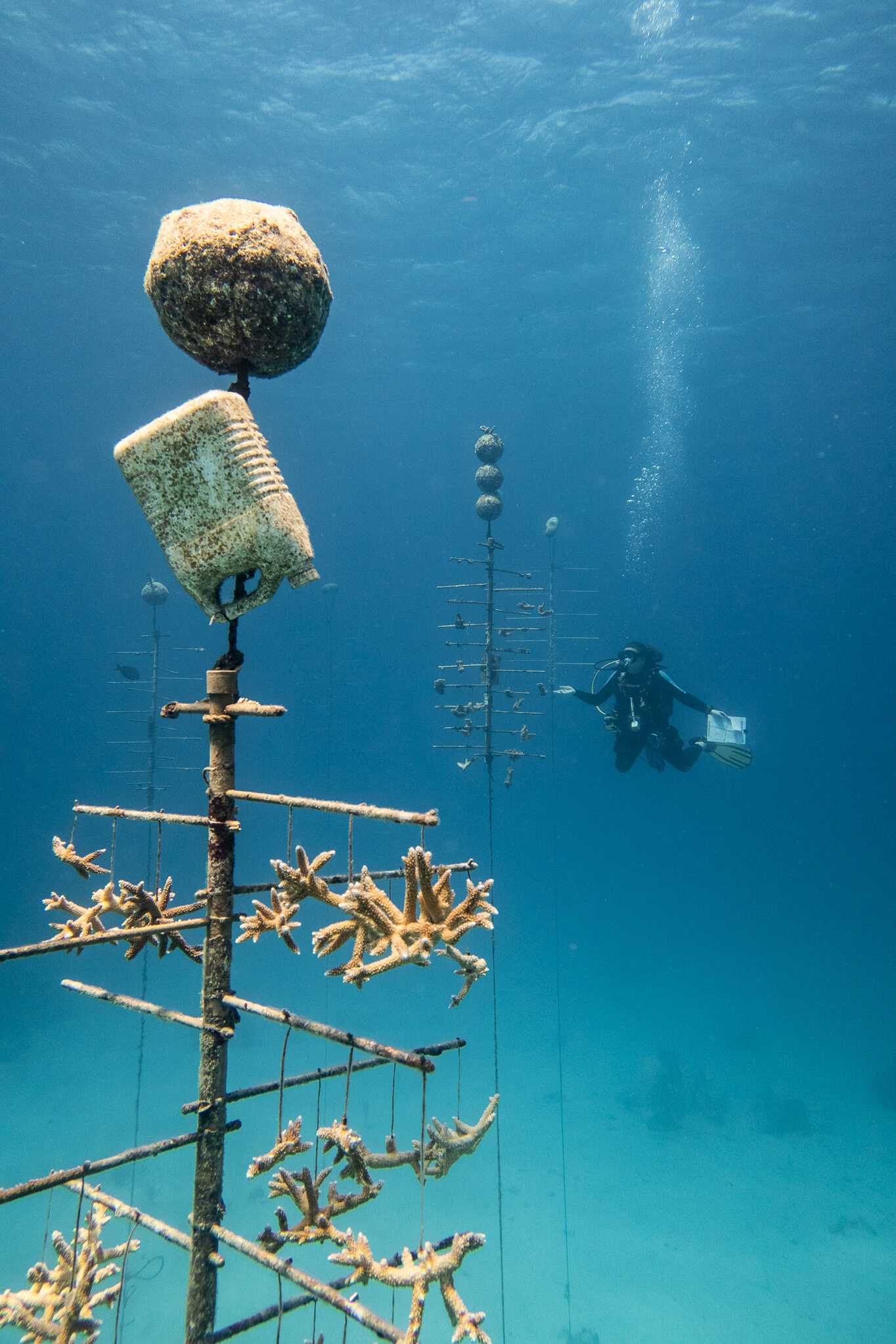 Eco Divemaster
Designed for anyone with an interest and inclination to learn more about underwater conservation, and to get hands on experience with Coral Restoration. Also ideal for Marine biology students looking for extra credit or adding to their underwater experience. This option is an add-on to our Classic Divemaster.
Includes everything from the Classic Divemaster plus:
RMP Coral Restoration Course
PADI AWARE Course

Coral monitoring dives and reef data collection

Community Conservation projects in Roatan

$1100 USD
Ultimate Divemaster
Sign up for the Ultimate Divemaster package and take advantage of your time with us by earning extra specialty certifications. Extra knowledge and experience will advance your skills even more, and give you the best career start.
Includes all aspects of our Classic Divemaster plus:
Nitrox specialty course

Deep Diver specialty course

Underwater Photography course

Offer only available with pre-booking

$1300 USD
Course Snapshot
We've designed our Divemaster programme to give you the maximum benefit from your time with us.
The PADI course covers 3 broad areas:
Knowledge Development

Waterskills

Practical Application
From the get-go we want you to become part of the team and fabric of Reef Gliders, and by completing your Knowledge Development and Practical Workshops early on, you'll have the foundations needed to be a Divemaster. Then we'll put your skills into practice as you start to assist our full-time instructors with recreational courses and guiding our divers on the reef. No-one's perfect from the start, which is why we'll teach you how to approach everything, highlight your strengths and identify the areas for improvement. It's a big learning curve and we're here to take you through it. By the end of your course you'll not only be a much more advanced diver, you'll have the ability and foundations to build a great career in the industry.
Prerequisites
What you need to begin:
18 years old

Certified PADI Advanced Open Water Diver (or equivalent from another agency)

Certified PADI Rescue Diver (or equivalent from another agency).

Completed 40 scuba dives

Completed EFR Primary and Secondary Care training within 24 months.

Medically evaluated and cleared for diving




by a physician within 12 months
To complete the course:
You'll need at least 60 dives (but you'll probably end up with many more).

You will have completed all the required exams, workshops and assessments.

You'll need night dive experience, which is a great excuse to jump on one of our many night dives.

To complete the legendary snorkel test! (Ok, technically that's optional)
When can I start?
Whenever suits you. We can be flexible with the Divemaster Course and tailor it to your needs. You can get started with the elearning as soon as you book.
What equipment do I need?
We include all the main pieces of gear, particularly the tricky ones to travel with such as BCD, Fins, Regulator etc.
We require you to have your own: Mask/Snorkel, SMB/Reel and Dive Computer.
We highly recommend all our professional candidates to have their own gear if possible.
How many dives will I be able to do?
Well, that's up to you! Our Divemasters average 60-100 dives whilst they're here. We schedule 3 daily boat dives plus regular night dives, so on the busier days you can do 4 if you're up for it.
What's the visa situation?
When you land in Honduras most nationalities are eligible for a free 3 month tourist visa which can be extended to 4 months when your here on Roatan.
If you arrive overland your tourist visa is usually for 1 month only.
What if I don't have the prerequisites?
Not a problem. We can organise any additional qualifications or dives you need to start the course, for a great price too. Get in contact and we can discuss your options.
How long is the course?
We think 6 weeks is ideal, however if you're short on time 4 weeks is sufficient. Likewise if you want to dive more and stay longer then no problem!
Can you help me find accommodation?
Yes, Roatan has lots of options for people wishing to stay for a longer period. We can use our local knowledge and contacts to help find a suitable place. It's a lot easier to find somewhere appropriate when you're here on the island, as most advertised places online are aimed at the short-term traveler. We do not include accommodation with our courses.
Do I have to complete it in one go?
No, not at all. Most people will naturally stay for the duration of the course, but if you can't get all the time off work at once, or you need to leave unexpectedly, we have a record of your training and you can come back anytime to continue your course.
Do you offer free internships?
No. We firmly believe our Divemasters in training are here to learn and not to be used as 'free labor', nor do we expect our instructors to deliver world-class instruction for free. We don't offer free internships because the course is about you, not us.
How do I contact you?
Easiest way is to send a form below and we'll reply ASAP. Otherwise you can email our Course Director on
protraining@reefgliders.com
, or Whatsapp: +504 9335 3374 for more information.