The REEF GUARDIANS Program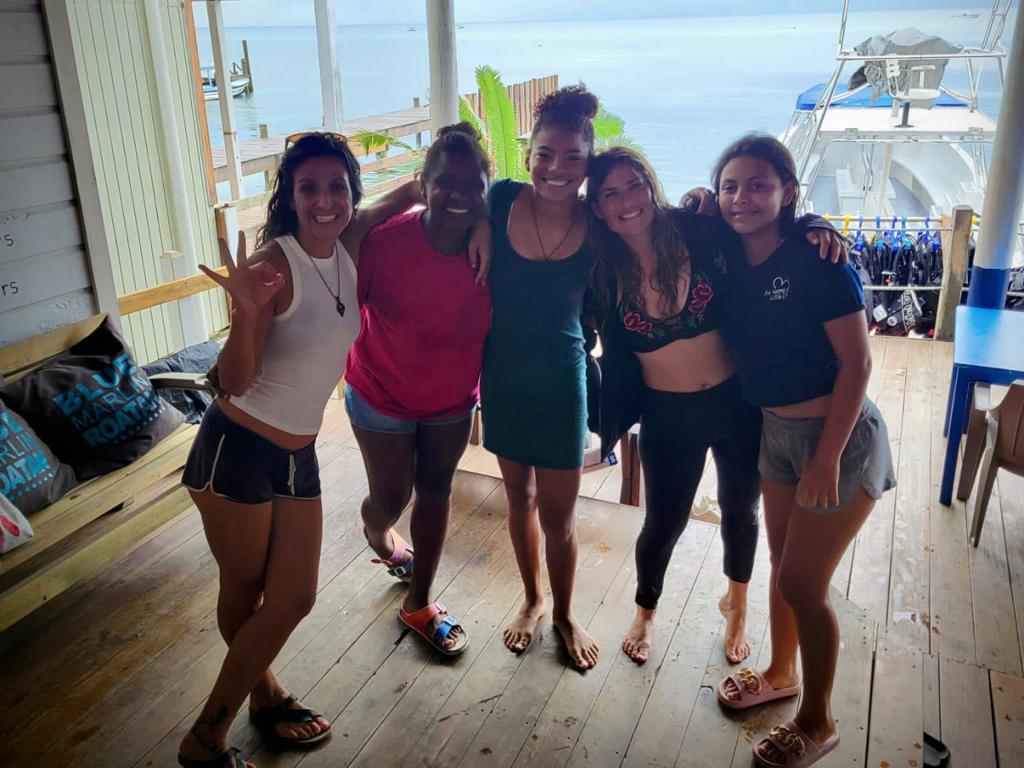 Have you heard of the Roatan Reef Guardians? We are extremely proud to introduce you to our 'first-of-its kind' community outreach program to empower the lives of the young women of Roatan.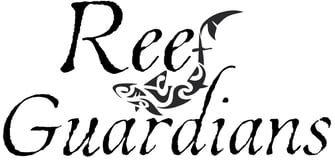 This program stemmed from the desire to have a community outreach project to give back to this wonderful

Island we call home, and we specifically wanted it to focus on young women who tend to lack equal opportunities as they enter adulthood on the island. Roatan has a need for local Dive professionals, specifically female ones. We initially approached SOL Foundation in early 2022 about the idea of starting an internship program with young SOL female students who are interested in learning how to dive.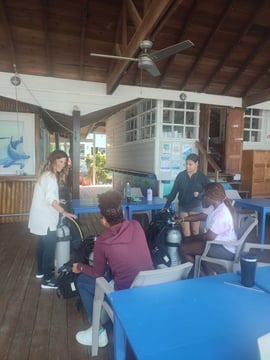 The goal is to place the candidates in a long term training program, from certified Open Water divers to Divemasters, in order to provide them with a livelihood by the time they graduate from high school and turn 18 years of age. The program aims to teach them the academic, physical and social skills needed to work as a dive professional in the Dive and Tourism industry of Roatan. Once they turn 18 they can then choose to work for an income, gaining independence, growing as an individual and safeguarding their native reef system.
The program is split over the course of 2 years and is carried out with a holistic approach incorporating dive center etiquette, local ecology, the business of diving and reef conservation.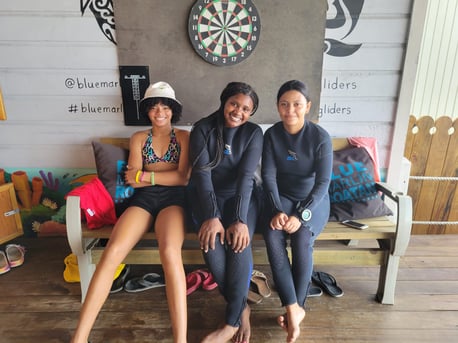 In the first year we cover the core courses of PADI Open Water, Advanced and Rescue/EFR, but more than that we incorporate specific practices of health and fitness, snorkeling, safety in water sports, breath work and meditation to reinforce the mind-body connection. On the second year we move on to Coral Restoration Course from the Roatan Marine Park and the PADI Divemaster Course. We really take our time (since we have it) to ensure the candidates learn the skills in and out of the water properly, and practice without rushing. This in turn allows the candidates to have a consistent weekend activity and learn from being in a busy dive center atmosphere.
In the pictures you can see our first Reef Guardian trainees Daphne, Liberty and Abana, who come to class every Saturday morning and continue with their training practice. Instruction, equipment, training materials, classroom sessions, dives, breakfast and lunch are provided by Reef Gliders and their certification fees are sponsored by PADI who have kindly agreed to help us cover the cost of training local dive professionals in Roatan. Verónica Coates, Conservation Manager at Reef Gliders, founded the program after approaching SOL with the project proposal. With the SOL foundation instantly onboard, she designed the syllabus and launched it in December 2022. She currently spearheads the program alongside Laura Navas Pérez, SOL Foundations' certified psychologist and former full-time Dive Instructor. More recently Reef Gliders Instructor Alma Mejía (Gigi) has also joined the team and has begun working with the Reef guardians.
The vetting process for Candidates
'SOL International Foundation works to initiate and supports community-based programs designed to promote education and increase the quality of life on the island of Roatan, Bay Islands, Honduras.'
SOL Co Founder David Elmore and SOL Psychologist Laura Navas Pérez carry out the vetting process to choose 3 candidates per semester. They must have a stated interest towards diving/ecology, a measured and maintained effort in assistance, and minimum grade requirements in their educational development over the last 2 years of school. Finally, the candidates are interviewed by the SOL Co-Founder and Reef Gliders Dive Center.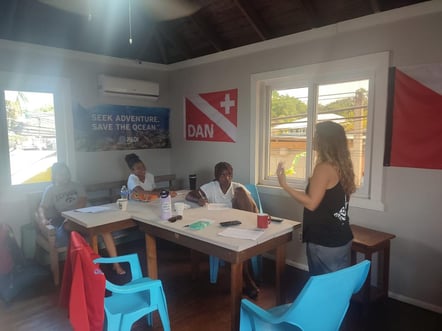 Requirements to apply for the Reef Guardians Program:

1- Honduran national

2- Minimum 15 years old

3- SOL Foundation enrolled student

At the moment the Reef Guardians are completing their Advanced Open Water Course and will soon be moving on to the Rescue Course after some weeks of practicing and mastering their newly acquired skills. We strongly believe the Reef Guardian Program will change the candidates' lives for the better, and hopefully inspire other dive centers in Roatan to train and hire more local female Dive professionals. Follow us on social media to keep track of their progress and for more information on the Reef Guardians Program make sure to contact us via email or stop by our shop in West End.